"Adventure is what the life makes valuable. Doing that with my sailing vessel is the best thing I can imagine."
Hi I am Christoph. I was born and grew up in Augsburg (Bavaria, Germany). I still live in this 2000-year old city founded by first Roman imperator Augustus together with my beloved wife Tatiana and my two kids. I am the proudest dad in the world and since 2014 I love to have my best time on the water.
I was born in 1976 under the sign of aquarius. So my way of becoming a skipper was predetermined.
Hobbies and things I love to do
Spending time with my wife and my two daughters
Eating good food, a drinking high quality coffee
Having interesting conversations
Developing business ideas. My mind is full of ideas and some of them are being further developed which is pretty much fun.
I love making people and companies succesful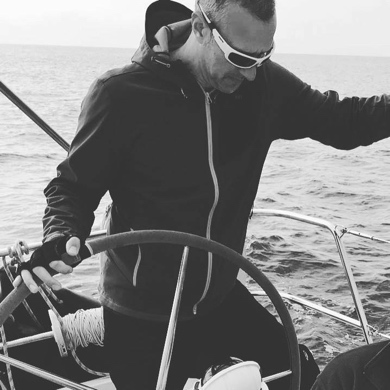 Me doing business 
I own two companies that are active all over Europe.
My business focus activities are
Being an entrepreneur
Do coaching and advisorship for decision makers and team building
Working as Senior Project Manager in international projects (PMP certified)
Develop new business cases
Partly being a full stack developer for apps and web services
Caretaking SV LIMA as owner and skipper #onaboat
I do have more than 20 years of business expertise and experience which I use for doing skippering, team building and advisor ship sessions on the SV LIMA that is owned by one of my companies.
Water relevant licenses
SBF See (German license for going with motor vessel at the ocean)
SBF Binnen (German license for going with motor vessel at the inland water)
Bodenseeschifferpatent (German license for specificely going with a vessel on the Bodensee which is a sanitary zone of well protection)
SRC (Short Range Certificate, for being allowed to use vhf radio at sea)
License für maritime distress signals
SKS (German "Sportküstenschifferschein")
Diving certificate Open Water Diver
Diving certificate for Nitrox
Me enjoying a beer during leisure time. Here at the main place in Umag / Croatia.